FRC Hours/Contact:
24 hours, 7 days a week.
Welcome To Free Rabbit Control Services
Below you will find out some information about me and why i started FRCS.
A few years ago my uncle took me out ferreting and fishing, since then my uncle has past away and ive continued to fish but never got to ferret again after only a few days out.

Ever since then i considered taking up the sport as a hobby but wasnt in the position to do so.


Now a good few years later am setting up FRCS at the age of 33 with the last seven years ferreting/rabbit control experience.
Why Free Rabbit Control Edinburgh Was Setup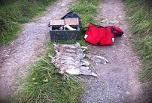 After a few years of ferreting as a hobby, ive experienced the ups and downs of trying to find perrmision to ferret on peoples land.





The ups
Is were ive gained some permission and trust doing a good job while respecting land, helping control rabbit numbers and reducing damage caused, others have given me permission simply because ive asked, were there hasnt been a rabbit problem for them, just given me somewhere to continue a hobby.
The downs
Is were maybe some land owners might want me to help out or give me land to continue a hobby but have had problems in the past with poachers, others disrespecting land etc hence the idea behind FRCS.
After speaking to a few land owners and friends who have experienced similar problems i decided to setup FRCS with a website and some cards to hand out, so when i approach land owners in future they aint seeing some random guy that could be anyone, they can view insurance details, more information on the FRCS website, request references and more, making sure land owners know if they give me permission i can be trusted, putting there mind at ease and improving my chances of more good sport. Thanks for checking the website out, if you have any questions feel free to contact me anytime.
All the best, Joe